Optimization of a coplanar isolator based on field displacement and magnetostatic waves effective in the X band.
Optimisation d'un isolateur coplanaire à déplacement de champ et ondes magnétostatiques opérant en bande X
The microwave isolator is a two-port device with unidirectional transmission, used most often to protect sources from damage from potential power reflections in transmission chains. A previously realized isolator, consisting of an asymmetric coplanar line deposited on a YIG substrate and a lower ground plane on one side, with a vertically applied magnetic polarization, shows a Left-Hand propagation around 10 GHz. This device operates at a frequency close to the gyromagnetic resonance, has a correct isolation, but insertion losses still too important for a commercial application. An evolution of this structure is realized, with two designs of isolators, one of which is an asymmetrical structure with the same characteristic with a width of 1.3mm, and a polarization field of 200mT. This structure shows important performances, with an isolation of -19.1dB and insertion losses around 0.5dB, generated by the appearance of magnetostatic waves around 10GHz. A second structure with two symmetrical slots shows better performance than the single slot structure, with a non-reciprocal effect of almost 28dB, and an isolation of -29.5dB for insertion losses of -1.5dB around 10GHz.
L'isolateur hyperfréquences est un dispositif à deux ports avec une transmission unidirectionnelle, utilisé le plus souvent pour la protection des sources contre les dommages des éventuelles réflexions de puissance dans les chaînes de transmission. Un isolateur précédemment réalisé, composé d'une ligne coplanaire asymétrique déposée sur un substrat de YIG et d'un plan de masse inférieur sur un côté, avec une polarisation magnétique appliquée verticalement, montre une propagation Main-Gauche aux alentours de 10 GHz. Ce dispositif fonctionnant à une fréquence proche de la résonance gyromagnétique, présente une isolation correcte, mais des pertes d'insertion encore trop importantes pour une application commerciale. Une évolution de cette structure est réalisée, avec deux designs d'isolateurs dont l'un est une structure asymétrique de même caractéristique avec une largeur de 1,3mm, et un champ de polarisation de 200mT. Cette structure montre des performances importantes, avec une isolation de -19,1dB et des pertes d'insertion autour de 0,5dB, engendrées par l'apparition des ondes magnétostatique autour de 10GHz. Une deuxième structure à deux fentes symétriques montre de meilleures performances que la structure à simple fente, avec effet non réciproque de presque de 28dB, et une isolation de -29,5dB pour des pertes d'insertion de -1,5dB aux alentours de 10GHz.
Fichier principal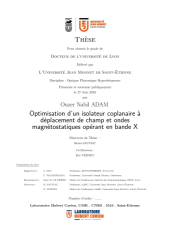 These OUZER version finale comprimée.pdf (2.62 Mo)
Télécharger le fichier
Origin : Files produced by the author(s)